The Basics
This workbook will go over a few foundational ideas that will help you start a new business or take your existing business to the next level. No sales crap. Just knowledge. 
We will discuss and learn:
Goals: Why setting goals is important and how to plan successfully

Money: How to outline making it.

Hacking Humans: Kinda…
This book is tiny. We simply can't go over everything because it takes a full book to do so. Literally, we're writing a book that will be hundreds of pages of proven knowledge and tools all based on the Bible's principles for business and hacking humans to buy from you. I hate webinars and courses that are all fluff words and in the end, they give you a sales pitch to buy a product, course, or something. This isn't that. This is just a short free book of every useful knowledge and tools. If you want to hire us or need help with your business call us. If not, that's ok. We still love you and want you to do well.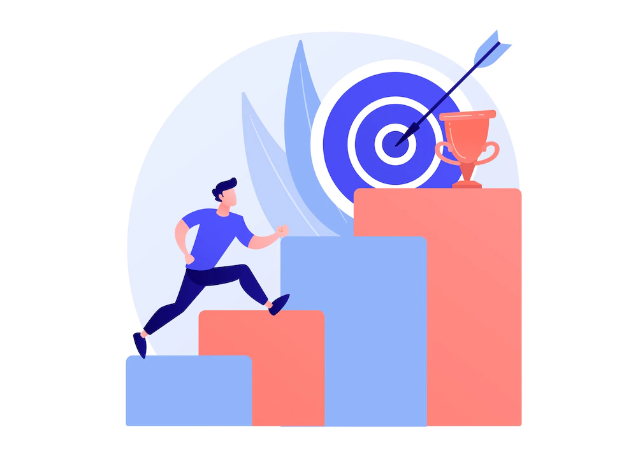 Why You Need To Do This
Proverbs 29:18 – Where there is no vision, the people perish: but he that keepeth the law, happy is he.
It's a simple principle. If you don't know where you are going, how you are going to get there, or what success looks like, you're going to perish. Your business shouldn't have to be led by faith through the wilderness when God gives us wisdom and guidance to go directly to the "promised land".
From a secular point of view, if you can't define what you're doing to the customer and staff, how do you expect them to not only articulate it to others but, be successful in it?
Prioritization Breakdown
This exercise helps prioritize how the organization makes money, markets itself, and creates systems. You will first brainstorm as many activities for each category below, then score their priority levels on a scale of 1-10, 10 being the highest priority.
Setting Goals Exercise (Example)
These are goals (Tasks) that will help narrow your focus and guide you to where you need to go. Anything goes. Be as limitless in your ideas as you possibly can.  What do you want to achieve in the next 90 days?
Term – Short-term tasks are items that can be completed within 30 Days. Medium = 60 days. Long = 90 days
Desirability – On a scale of 1-10 (10 being the most) how much do you desire this goal?
Doability – On a scale of 1-10 (10 being easiest) how easy would it be to obtain this? Do we have the people, resources, and budget to execute this?

From this example the three most important things I need to work on are: Getting Worker's comp (19 total points), Finding ways to take credit cards (18), and Hiring an accountant (18). The tiebreaker between tasks that are the same value is the term. Do shorter tasks first. Once those top three are accomplished, continue down the list to the next highest value (Inventory products at 17 points)
Ok. on the next page it's your turn to do this. You got it. Remember, dream big. There are no wrong answers.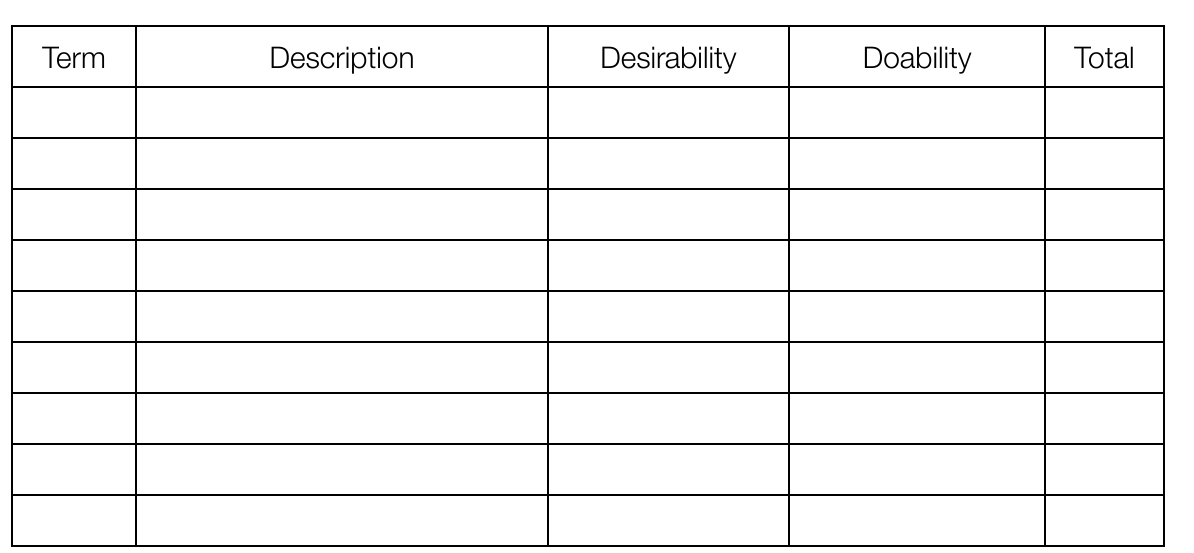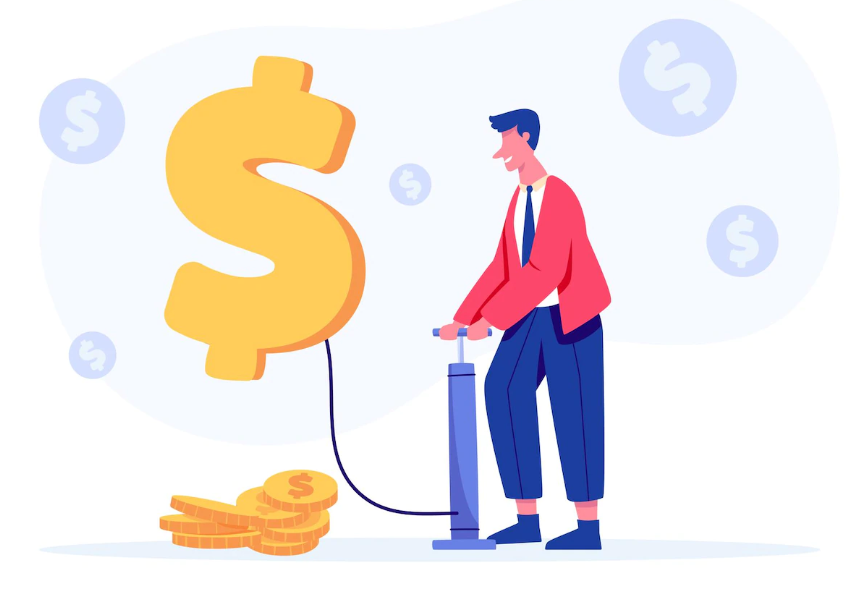 Money is a toolkit… toolkit…
Money isn't a bad thing. Money isn't a good thing. It is just "a thing". It is a tool. Tools can be used to build things. If used incorrectly, tools can damage or kill. There is so much more to that and learning about the toolkit of money but, for now, we are going to focus on obtaining this tool.
Planning on money

Dream Big On Revenue. How much do you want to make in revenue each year? (Now, in reality, you're business should NEVER make a true profit. Any extra money should be put into other resources… That's why we measure revenue and not profit.
Just write down how much money you want to make each year. Hint, the number should scare you and the number should increase annually.

How To Hit Your Target!
In this exercise, we break down your average sale per customer and determine how many customers you will need to hit your goals.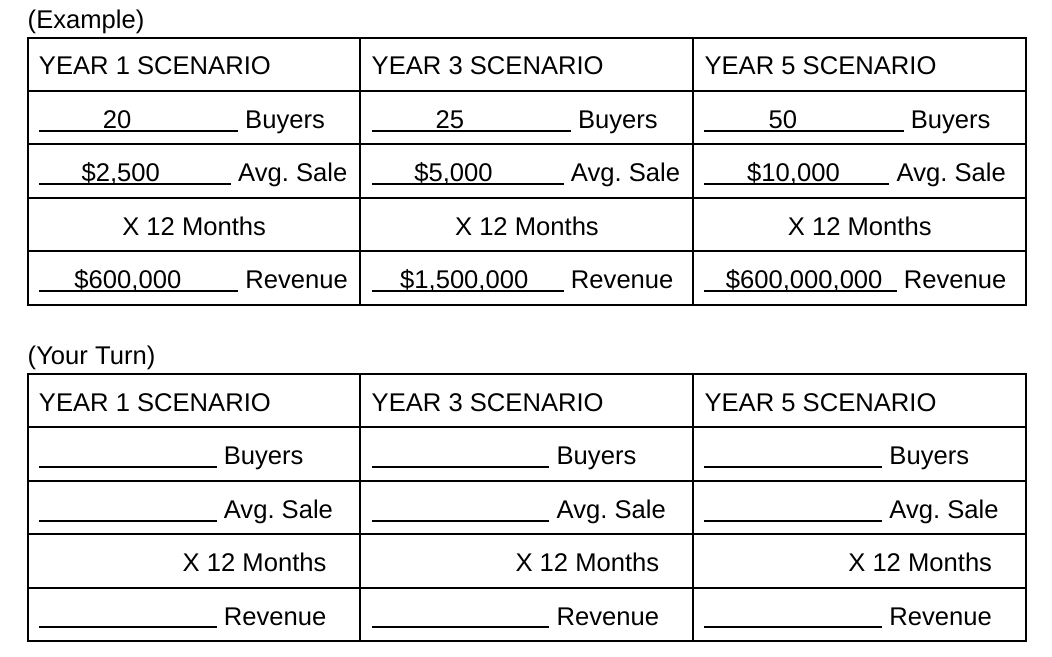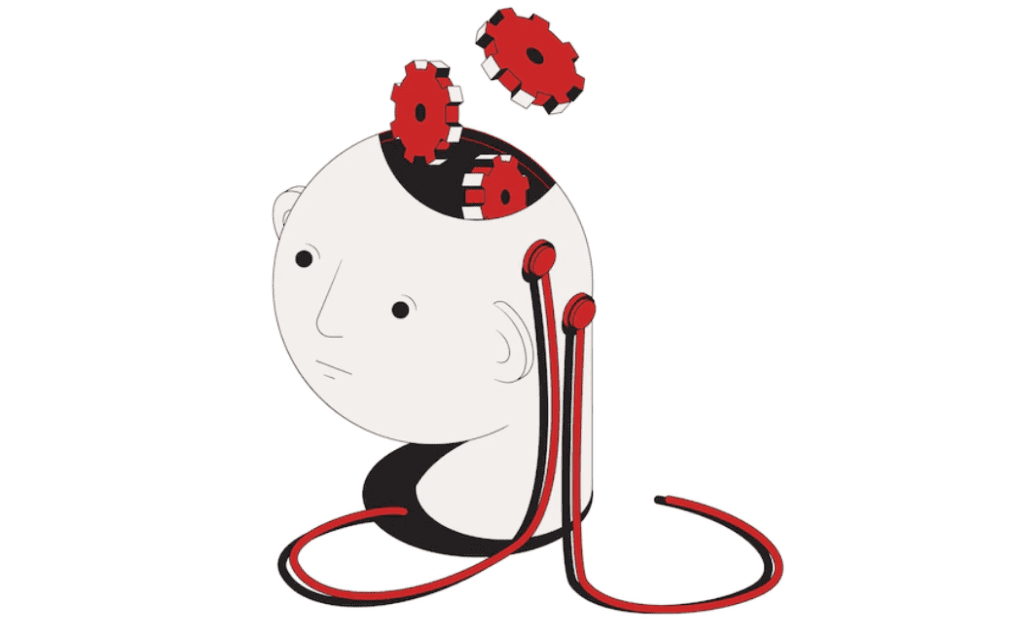 Hacking Humans… Kinda…
 Humans love stories. Every one of us does to some degree. It's how we are wired by God to communicate. We tell a story simply by frowning. It tells viewers we are sad and something made us sad. That's a short story but, a story nonetheless. God chooses to even save our souls through the story. The great commission is to go into all the world and tell others about God's plan to restore humanity through Jesus's death and resurrection. His story is salvation to us. 
     But, why? Why a story? Because humans are emotional creatures. We are flesh (instinct). We are Spirit (will / thinking). We are Soul (emotions). Jude 1:23 says "And others save with fear, pulling them out of the fire; hating even the garment spotted by the flesh." God uses emotion to communicate his message. Conviction strikes at our spirit and triggers an emotional response. 
     So, what's the business hack here? Trigger people's emotions through story. When people make an emotional connection with your product or service, they will be much more likely to do business with you and tell others about you. 
How do we make emotional connections? Knowing who to "preach" to. Jesus says many are called, few are chosen. We need to target specific people with our message.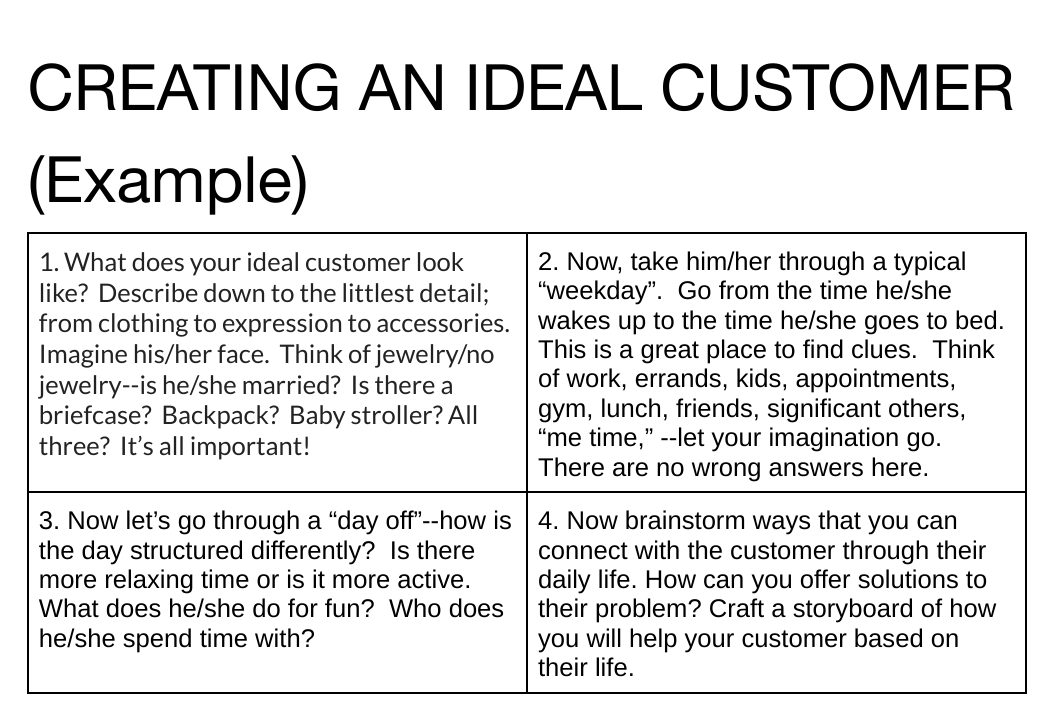 Relationship. Making Evangelists For Your Business.
A customer buys your product or service, a transaction takes place and there's an exchange of value. Once that takes place, the relationship ends. An audience is a "true fan". They extol your values and "join your tribe".  Remember, you have to pay customers to pay attention; that's advertising. Audiences happily give you their time and attention. This is how and why an audience is far better than a customer. 
To grow your audience, it's proven you need to do three things:
Be Consistent

– Show up every day. Handle what matters and don't worry about the results too much. Make small, simple commitments that are baby steps toward the big goal. Keep in mind, that ACTION BEATS INTENT.
Give Generously

– Don't hold anything back. Be transparent. Don't be afraid to invite people into your world. Let people know how the sausage is made. Invite them into the factory and behind the scenes. The more you show them your process and who you truly are, the more connected they feel.

Serve Others – Stop Selling. Start Celebrating the people we serve! When our focus is "me", we can only ever grow to the size of our own limits. When we shift our focus to them, our reach becomes limitless. It's the difference between an implosion (drawing everything in towards us) and an explosion (pushing everything outward).
Are you ready to get your business growing?
Let us help. Our Coaches Will Contact You For Free